Spooky Strains: The Best Cannabis for Halloween
Spooky Strains
The Best Cannabis for Halloween
As the leaves turn crisp and the nights grow darker, we've conjured up a ghastly collection of Halloween-themed strains that are sure to send shivers down your spine. Venture forth, if you dare, and explore the haunted depths of our sinister selections, where every puff is a step closer to a realm of bewitching euphoria.
Zombie Death F****
In the shadowy depths of October's darkest nights, a chilling strain emerges. But beware! Zombie Death Fu** sounds a warning to the inexperienced smoker or the weak of heart! This sativa-dominant hybrid is a sinister blend of Girl Scout Cookies and OG Kush L.A.. The strain packs a monstrous punch, ready to ensnare the unsuspecting. Its flavour is an eerie concoction of piney woods and earthy graves, with a twist of citrusy ghouls — but don't be fooled, it's no treat! With each puff, you may find yourself either paralyzed in silent terror or cackling madly with delight. The choice is yours, if you dare to indulge.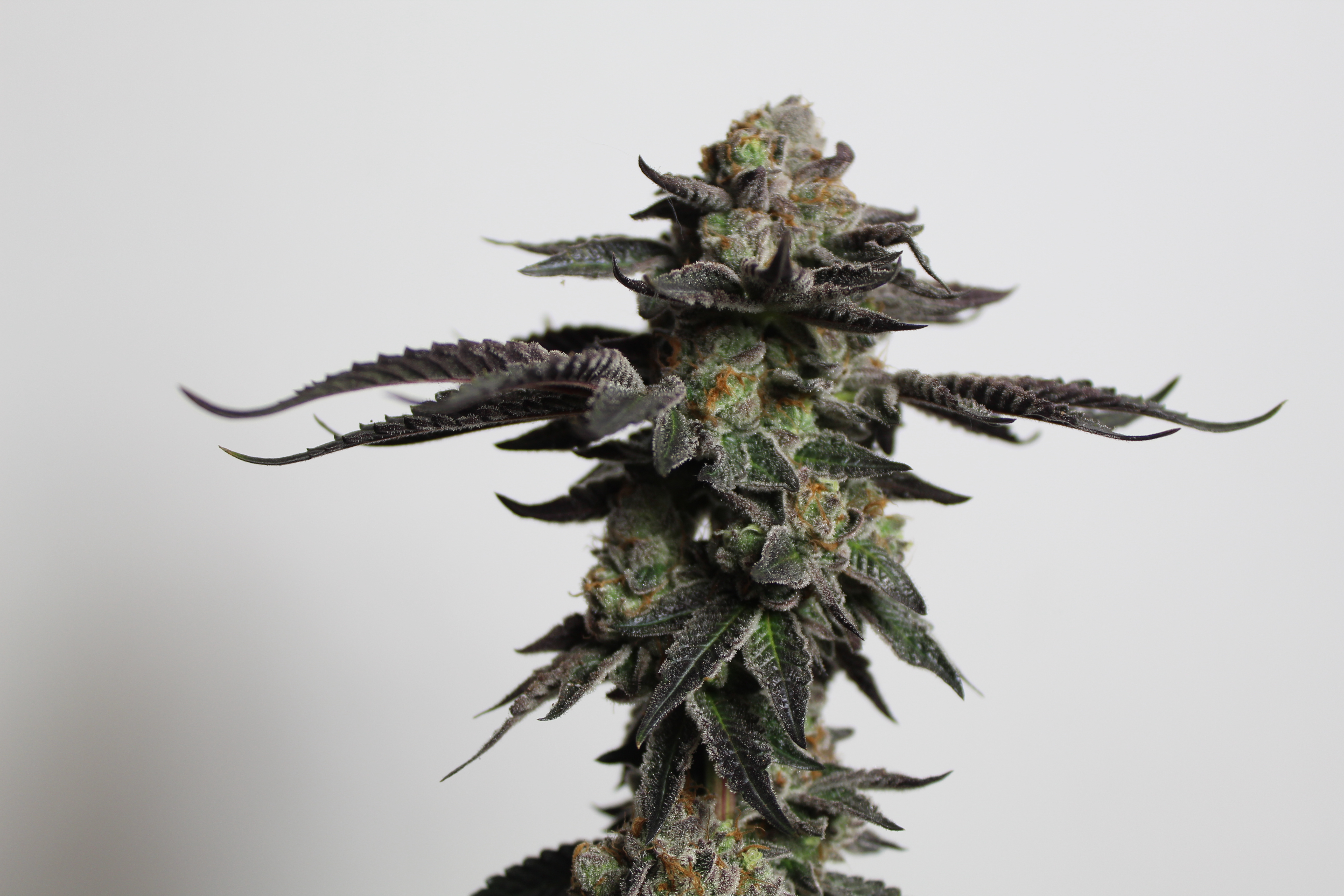 Try Zombie Death F**** by Highland Greenhouses at Farmer Jane Cannabis Co dispensaries. This spooky strain is available in 1g flower for $10.99 or in preroll format. Grab a pack of 3×0.5g prerolls for $14.99, or a 1g preroll for $10.99.
Grimm Glue
Embark on a chilling tale of the Brothers Grimm, where cannabis concoctions are as mysterious as the legends themselves. The Brother Grimm Seed Co, shrouded in North American cannabis folklore, has crafted a myriad of enigmatic strains. Enter the lair of KushKraft, and behold the Grimm Glue premium flower. This haunting, glittering bud carries notes of ancient cedarwood, intertwined with sinister citrus and the foreboding fragrance of skunk. A single whiff, and you may find yourself ensnared in a web of potent, bewitching flavours, the Grimm Glue's secrets hidden deep within its smoky veil.
No tricks, it's only a treat with this strain. Pick up this bud in a haunting 7g format for $35.99.
Alien Guy
Alien Guy, a spectral sativa from another dimension, is born from the unearthly union of Jean Guy and Alien Dawg. Allow your mind to drift among the stars with the bold, sour citrus aromas, reminiscent of zesty lemons and sweet, interstellar pine. The dense emerald green buds are speckled with fiery amber pistils, each one thoroughly cloaked in a shimmering veil of trichomes. This otherworldly strain is not easily abandoned; once in its grasp, you'll find it hard to let go. Known to propel your energy levels to the cosmos and induce a state of euphoria, as if you're weightlessly gliding through the vastness of space.
Guide your space travels by picking up 7g of Alien Guy by Canaca at Farmer Jane dispensaries for an out-of-this-world price at $33.99.
Ghost Gelato
Step into the chilling world of Ghost Gelato by Canaca, a sativa-dominant strain that's no trick, all treat. With whispers of sweet, creamy gelato and earthy pine, this strain will have your taste buds haunted by flavour. But beware, the dense, eerie green and purple buds, covered in glistening trichomes, are as captivating as a ghostly apparition. This spine-tingling strain promises to lift your spirits, delivering a ghoulishly delightful euphoria that will have you floating on air. Ghost Gelato – a frightfully good time awaits.
Treat your senses to this strain in 7g for $34.99. Or fill up your trick-or-treating bag with 28g for $130.99.
MONSTERS Monkey Walker
It's time to unleash the beat, the Good Supply Monsters: Monkey Walker. When the clock strikes midnight, Good Supply unleashes their monstrous creation, the Monkey Walker. In the eerie glow of their laboratory, they concocted a frightful fusion of two legendary indica strains, Monkey Butter and Starwalker Kush, giving rise to one of Canada's most fearsome infused pre-rolls. Your eyes will widen in terror at the sight of its colossal size, harbouring a ghastly high THC content. This behemoth of THC is a nightmarish blend of milled Monkey Butter flower, infused with the sinister Starwalker Kush BHO. Enveloped in a fat, dark cone to imprison its power, it's shrouded in a waxen cloak and plunged into a pool of kief, resulting in an abomination that's truly from the depths of hell.
Pick up this monstrous heavy 2.38g preroll for $32.49 at your closest Farmer Jane this Halloween.
As the ghostly fog lifts and the witching hour approaches, we hope that our eerie offerings have left you both delighted and spellbound.
Take with you the memories of these otherworldly experiences, and may they haunt your dreams and elevate your spirits.
If these spooky strains don't live up to your scary senses, take a look at our full menus to see what haunting delights we can offer you…
Until next Halloween, stay spooky and savour the chilling embrace of our haunting harvest…
https://farmerjane.ca/wp-content/uploads/2023/10/med_res-2023-10-10T094107.802.jpg
480
640
Kamryn Weisgerber
https://farmerjane.ca/wp-content/uploads/2021/02/Farmer-jane-logo-horizontal-no-arch-1030x152.png
Kamryn Weisgerber
2023-10-10 09:51:24
2023-10-10 09:51:24
Spooky Strains: The Best Cannabis for Halloween